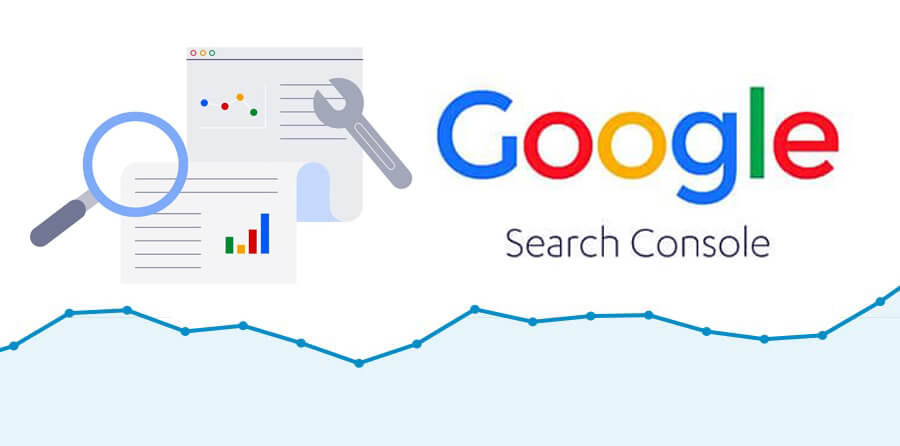 Learn everything you ever wanted to know about Google Search Console and how to use it to improve your SEO results, including specific tactics and strategies that you can use to boost rankings.
If you want to really get the best out of Google Search Console and improve your site's ranking, read on!
What is Google Search Console?
Google Search Console is a free tool from Google that helps you monitor the health of your website through a wide variety of tools and reports. Replacing "Google Webmaster Tools", this updated version is an essential tool in your SEO toolbox on just about every aspect of your website that will allow you to monitor and improve your SEO.
This extensive Google Search Console guide will:
help you figure out how to set up your own website in Google Search Console
provide you with ways to use Google Search Console to improve your keyword rankings, view website errors, monitor your website's SEO and much more…
Why use Google Search Console?
Google Search Console allows you to:
Submit a sitemap to ensure all your web pages are discovered and indexed on Google
Discover errors on your website that may be hurting your SEO ranking
Monitor your keyword ranking and whether your clicks are increasing or decreasing per keyword
Confirm that Google can access your website's content
Submit your pages for faster crawling and indexing
Monitor malware warnings and file reconsideration requests
Discover how your website is viewed by search engines
Determine which keywords your website currently ranks for
How to Set up Google Search Console
To start with, you will need to have a Google account to set up Google Search Console. If you're already using a Google product – Google AdWords, Google Analytics, Google Docs, Google My Business or Gmail account – you should already have a Google Account.
I would recommend you use the same email address to set up all Google Products. This will make it easier for you to link between accounts and share data.
Here are the steps on how to create a Google Account:
Step 1: Go to Google.com and click 'sign in' at the top right

Step 2: Click 'Create an account'
https://www.androidcentral.com/how-set-new-google-account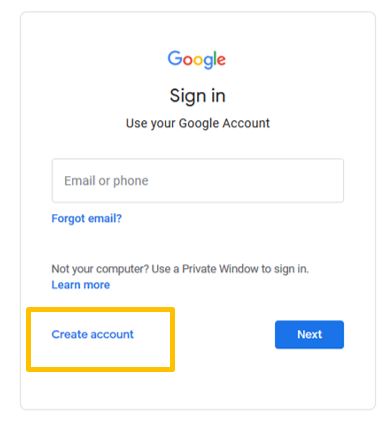 Step 3: You can choose to create a Gmail account or click 'use my current email address instead' to use an existing account, such as your work email. Then click 'next'.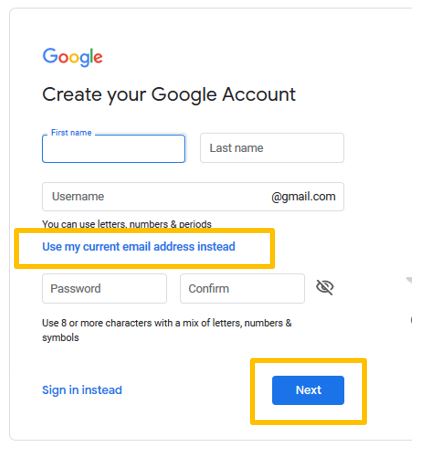 If you already have a Google account, or once you create a Google account, you're ready to create a Google Search Console Account.
Enter your email and password to log in
Once you log in you will be asked to select a property type. If you would like to track all your URLs, select the domain option. If you would like to track specific URLs, choose the URL prefix option.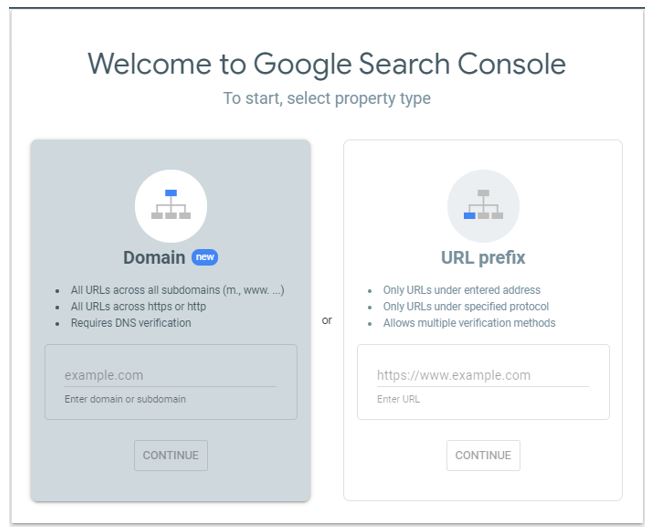 Steps to setting up Google Search Console via the Domain Option
Enter your domain/website address and click continue. Pay attention to whether your website has the www version or non-www version.
Next sign in to your domain provider e.g. Godaddy
Copy the TXT record provided into the DNS configuration
Return to Google Search Console to verify
To setup Google Search Console via the URL Prefix option
Enter your domain/website address and click continue. Pay attention to whether your website has the www version or non-www version. Enter your full URL prefix e.g. (https://www.yoursite.com)
You have several options to verify your website in GSC, simply click the down arrow next to each method

HTML file: download the html file provided and upload it to your website root directory
HTML Tag: add a meta tag to your site's homepage. Simply copy the meta tag provided and paste it into your site's homepage
Google Analytics: this is one of the easier options if you already have Google Analytics installed on your website. As long as you're using the same email address for your Google Account you will be able to use this method.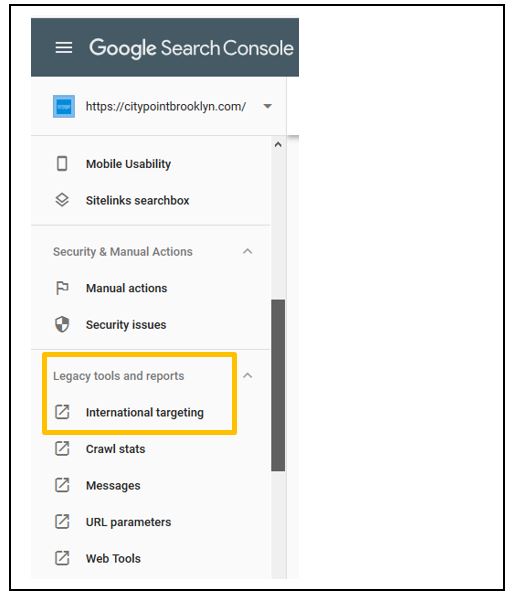 Setting Your Target Country
If you would like to let Google know that you would like to target a specific region, you can do so in Google Search Console, which usually links back to the older version of search console.
Follow these steps to set your target country
Log into Google Search Console
Scroll down on the left to the 'Legacy tools and reports' section and click the down arrow
Click 'International Targeting'
Next click on the Country tab

Check the box next to Target users 
Next click on the drop down and select your target country
When to Use a Geographic Target
You are targeting particular markets with Top Level Domains (TLDs)


You are a local business targeting a multilingual audience within your country

When NOT to Use a Geographic Target
      4. You are a local business targeting a multilingual audience abroad

In this specific instance, we wouldn't recommend setting a geographic target for specific countries.
You are a global business targeting global customers with subfolders
If you are a global business based in the USA, DO NOT set a geographic target to the US, as all of the subfolders will be considered to target US customers only. We suggest setting GT for the subfolders ONLY if you use country targeting.
You just want to achieve better rankings within your country
Choosing a target market via Webmaster Console is intended to allow Google to determine the country of targeting for gTLDs (.com, .net, .org etc.) Providing this information won't directly affect your rankings. As with any other geo-targeting signal, it may improve rankings for locally-sensitive queries. On the other hand, you can lose valuable traffic from other countries.
Link Google Analytics with Google Search Console
In 2013, Google switched searches to HTTPS, claiming improved security.
The downside was that important keyword data disappeared from Google Analytics.
But now there is an easy way to retrieve some keyword data, by linking Google Analytics to GSC.
To link GSC to Google Analytics in order to access keyword data, take the following steps:
Open up Google Analytics and click the 'Admin' button on the bottom left.

Click on 'Property Settings'


Scroll Down and Click on 'Adjust Search Console'


Click on 'Add'
Scroll down to your website and hit 'Save'Click on 'Add'

Once you have completed these steps, your GSC will be linked to Google Analytics.

To access the GSC data, take the following steps:

Log into Google Analytics
Click on 'Acquisition'
Go to 'Search Console'
Within Search Console there are four main reports:

Landing pages; the pages that users entered your website from via organic search
Countries; the country where your organic sessions originated
Devices; a breakdown based on the type of device that users used to access your website


Queries; the keywords you're currently ranking for in organic search, the number of organic clicks you get for each keyword, the number of organic impressions, CTR and your average ranking position
Add Your Website Sitemap to Google Search Console
A sitemap is essentially a table of contents for your website.
There are two types of sitemaps: HTML sitemaps, which are typically designed for your website users to easily find pages on your website. Especially for large websites with lots of pages.
XML sitemaps, which are typically designed for search engines. These include the pages, videos, and other files on your website, so that they can be more easily discovered for indexing.
Finding your Sitemap
If your site is written in WordPress with the "Yoast" plugin, then the sitemap should already be there, you just need to access it.
Follow these steps:
Log into your website dashboard
Locate your Yoast Plugin
Click on 'General Tab'
Click on 'Features'
Scroll down to XML Sitemaps and click the '?' next to XML. Click 'See the XML Sitemap'



If you don't use WordPress and use another website platform such as Square Space or Shopify, they both have built-in xml sitemaps.
Access Shopify XML Sitemap Instructions here.
Access Square Space  XML Sitemap Instructions here.
For other platforms, I would recommend reaching out to their support directly on guidance for locating your sitemap.
If you don't use "Yoast", and you're not sure if you have an XML Sitemap you can go to yoursite.com/sitemap.xml. If you have a sitemap, you'll find it here. If not, you will need to create one.
To create a sitemap, go to xml-sitemaps.com and follow the steps to generate a sitemap and add it your website.
Submitting a Sitemap to Google Search Console
Log into your GSC account
Click on 'Sitemap' in the left side panel
Typically to the top you will see your website address, for example yourwebsiteaddress.com/
Enter everything after the slash for your sitemap. E.g. if the URL for your sitemap is yourwebsiteaddress.com/sitemap.xml enter sitemap.xml after the slash
Click 'Submit'


This concludes the process of setting up your business in Google Search Console.
Your website is now verified by Google and you can now:
monitor your website's SEO, including traffic from Google, rankings and click-through rate.
get direct notifications on broken links, website errors, etc.
improve your SEO with valuable new information.
Get Found Online &
Increase Your Rankings.
Download our free
SEO Checklist
Subscribe to Receive the Latest Blog Post